At GIIS Punggol, the best of two worlds come together in our SMART school. With our Small Learning Communities of just 160 students, we offer the high-quality teaching and individualised student attention that is a trademark of smaller schools. We are also proud to offer the globally connected faculty, high-tech infrastructure, and myriad learning enrichment opportunities that are typically found only at larger institutions.
GIIS SMART Campus NEST Concept: Smaller Learning Communities for Personalised Attention
GIIS SMART Campus has developed both its campus building architecture and its curriculum around the NEST concept. While the GIIS campus may seem large in overall scale, our SMART Campus is designed like a NEST for students with a cluster of Small Learning Communities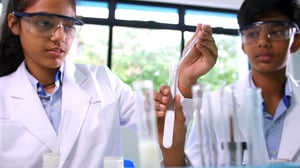 (SLCs) of 160 students. At large schools with 3500+ students, students can get lost in the facility and there is no personalisation. By offering smaller learning clusters, every student receives the personal attention they need to thrive.
By breaking our elementary and secondary schools into SLCs, students benefit from direct attention and oversight from educators and staff. Each of these SLCs is home to a suite of classrooms, designated project space, flexible open spaces for presentations and collaborations, and professional planning space for teachers. Our NEST is intentionally designed to host larger groups and smaller classes, depending on daily lesson requirements. At all times, every student enjoys personalised attention that is customised to meet his or her learning needs.
Cutting-Edge Technologies Power 21st Century Learning
GIIS SMART Campus brings cutting-edge, high-tech infrastructure to our classrooms, including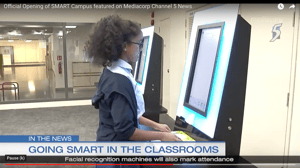 high-speed broadband resources that are not always available in smaller institutions. Student safety will be drastically improved as device signal based tracking systems and facial recognition systems are installed school-wide. Crowd control, student attendance and protection, and interpersonal and direct student communications can be delivered on this high-speed technological backbone.
Global Access for Global Citizens
Large schools can pool together resources and connect with a wider network. In this regard, GIIS SMART Campus understands that to leverage the best and brightest ideas, we needed to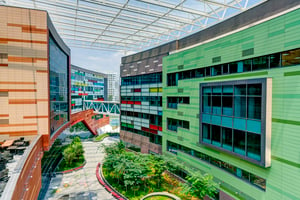 approach the widest possible network. GIIS outreach via its SMART design initiative connected our campus with globally renowned architects from Japan, the United States, and Australia. Experienced gained from a diverse cohort of architects enabled our teaching cohort to sculpt and institute ideas that would bring the most effective teaching experiences to life. Novel best-practice technological integrations have modernised classrooms and allowed for flexibility in teaching methodology. Smart classrooms themselves combine special monitoring technologies to enhance student safety and increase participation.
Experience the Difference of a Global Education at GIIS SMART Campus
From GIIS SMART Campus' smaller learning communities to our global access, we bring together the best of small and large schools for a truly one-of-a-kind learning experience. We invite you to schedule a campus visit to experience this difference yourself.