Recycle it Right! – teacher uses objects to demonstrate the right way of recycling
We at GIIS, feel that teaching students to be sensitive towards society and universe should start when they take their first step into formal education. Thus, our expert educators who have designed our futuristic Global Montessori Programme for preschoolers have incorporated iCare as one of the main pillars of the framework.
Making students caring and compassionate starts early at GIIS
When we talk about the iCare pillar of our Preschool Programme, the very first value we start inculcating in our students is empathy which ultimately leads to care. Early Childhood experts suggest that when children are about three years old they start realising that people have feelings, and this is the right time to start grooming them to be caring and sensitive towards the needful. Also, research suggests that teaching values of care and compassion to preschoolers help them curb negative emotions like bullying and aggression as they grow up.
While preschoolers cannot relate to bigger ideas like poverty, charity, pollution, global warming, we take baby steps and introduce them to simpler ideas like plants also feel the pain or sharing makes others happy. We encourage them to take small steps towards the bigger picture.

As part of our iCare pillar, the students get involved in an array of activities that gradually train them to be responsible citizens and participating in causes that will help the world and society at large.
Ms Padmarani Srivatsan, a Kindergarten teacher at GIIS for the last 12 years, has been passionately teaching the preschoolers about being responsible towards the environment. Her passion and meaningful contribution towards environmental sustainability has won her accolade from the Singapore government.
Ms Padmarani says, "I feel that kindergarten is just the right time to start teaching the kids about basic concept like what is the source of food. Since these are urban kids, they hardly know about the farms and plants."
Ms Padmarani, uses the green patch in the school to plant trees of herbs and fruits with the students. Not only that, she encourages the students to bring waste materials from their home for compost making in school and takes the preschoolers to the garden every day for watering the plants and watch them grow. "children learn the value of food by seeing that it is does not come directly from the supermarket but rather needs a lot of hard work and patience to grow."
In addition, at GIIS we engage the kindergarten students in a host of environmental activities to make them sensitive towards nature and sustainability. Some of the most interesting and recent activities that students participated in are: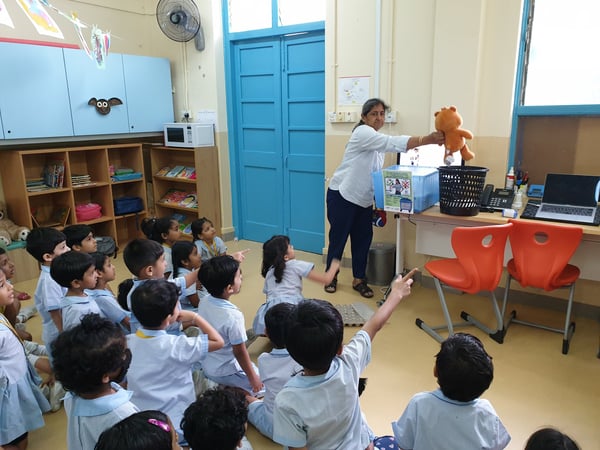 Recycle it Right! – teacher uses objects to demonstrate the right way of recycling
World Water Day Celebration – watching a video and designing poster on water a precious resource
Participation in Aerobic Compost Making at the Annual Clean and Green Singapore Carnival hosted by the National Environment Agency
3D Drawing activities to understand trees and seasons
By involving our kindergarten students in these activities, we provide them a platform to take a closer look at nature and environment. They realise that their small contribution can make a big difference.
Besides making the kindergarten students aware about nature and environmental conservation, the iCare pillar equally focuses on making them sensitive towards the needs of less privileged in society and how they can do their bit for the society.
Ms Priya Kapoor, the head of primary curriculum at GIIS SMART Campus, says that, "we want to shape the young ones into responsible citizens as they grow and step out of the school. Kindergarten is just the right time to start making the children feel that they are a part of a society and develop in them the urge to give back."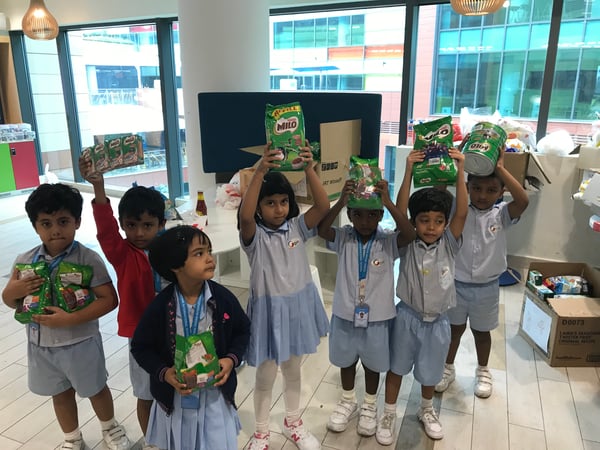 A few recent iCare activities that students conducted as part of teaching compassion to students are:
South Africa book drive – GIIS East Coast kindergarten donated 327 books as part of the drive
Joy of giving – Students were encouraged to contribute by donating certain food items. A wonderful opportunity to reinforce charitable values in children.
Family day - Children had fun in school with their families
Day of Gratitude -

Children showed appreciation to people who support the school.
A combination of all these efforts and counselling by our compassionate teachers work effectively towards transforming our kindergarten students into sensitive individuals. Interaction with community members and participation in bonding activities help them understand the importance of honesty, punctuality and integrity which are strong character-building foundations for their bright future.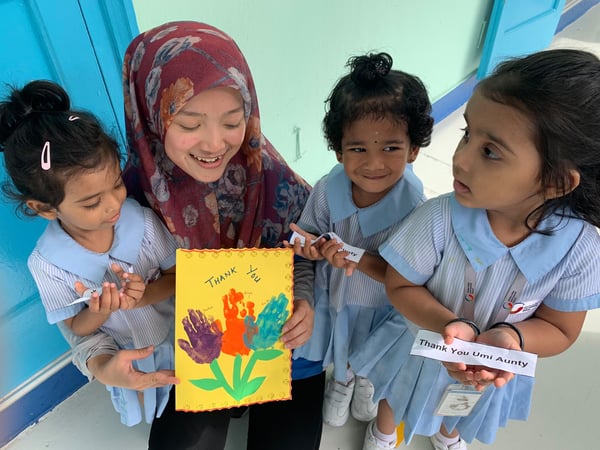 The iCare pillar of GIIS' Global Montessori Programme contributes largely in shaping our students into individuals with wholesome personality who are well-connected with community and realise their role in society.
Read other related articles: