Scholarships are an aid for a student to pursue the education he or she aspires to..
Scholarships that assist or cover costs of pursuing education provide a number of benefits for recipients. From reducing the financial burden of the rising costs of education, to allowing students more time and energy to focus on studies, scholarships are one piece in the puzzle of what creates a strong foundation for supporting students in their success in pursuing a good school, and furthermore, completing a university degree.
Commenting on the scholarship initiative, Mr. Atul Temurnikar, Co-founder and Executive Chairman, Global Schools Foundation said, "At GIIS, it has been our continuous endeavor to provide quality and world-class education to every student. The scholarship programmes are an extension and an integral part of GIIS' commitment to provide an equal opportunity to every child to get global exposure and study an international-level curriculum across GIIS campuses.
When the world was engulfed in the aftermath of the pandemic it was mayhem with parents losing their jobs, pay cuts and financial impacts on the family incomes.
Global Indian International School Dubai came to the rescue by offering the Resilience Scholarships of upto 35% on tuition fees for families impacted by the COVID 19 pandemic. Many families benefited from this resilience scholarship and could continue the education of their wards without interruption.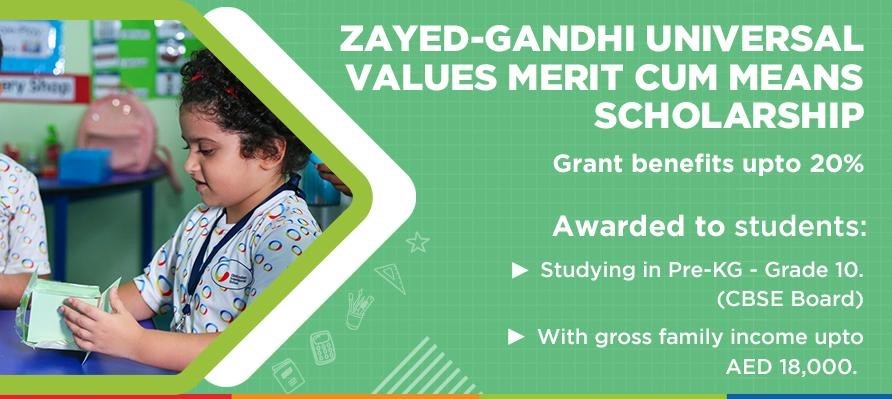 Zayed Gandhi Means Cum Merit Scholarships main objective is to extend support through financial assistance and make education affordable for parents across financial spectrums. The scholarship is aimed for students who are residents of Dubai, including existing parents and student fraternity of GIIS, across all grades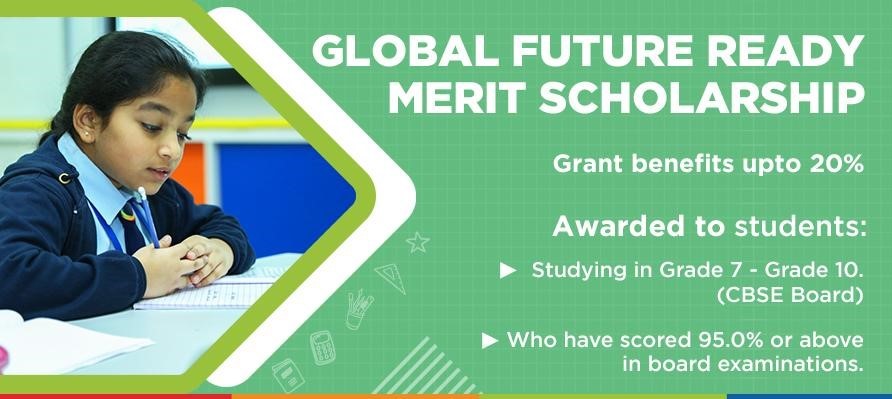 The prominent GFRM scholarship offers an impressive opportunity for an important learning experience that will prepare the student to become a global citizen and have easier access to the reputable universities and prominent undergraduate programs of their choice. All our students have proceeded to pursue higher education in reputed universities with nearly 80% getting admissions in Top 100 universities of the world and 50% getting scholarships for higher studies. Its rigorous process of application, interview with the senior leadership and an online written exam which makes it a coveted scholarship.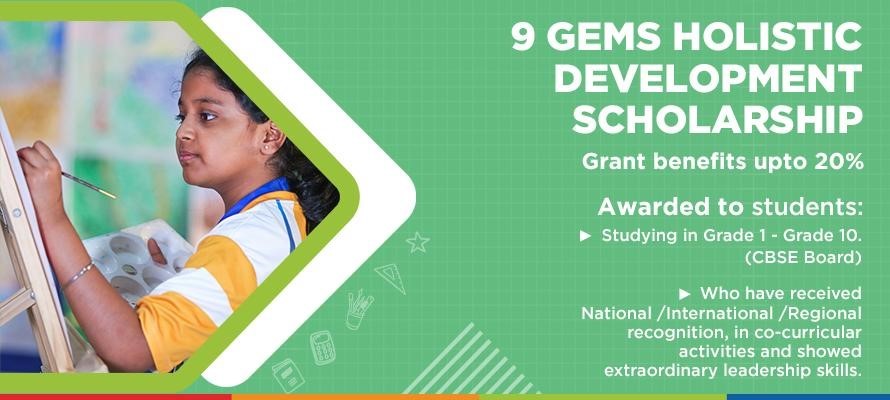 The 9GEMS™ framework is an award-winning holistic teaching methodology that helps students meet the changing needs of the time. The model is designed to groom students, hone their inherent strengths and enhance their personalities to make them well-rounded citizens.
In this digital world, students are known to be technology-savvy very early in their life. Their natural inclination towards the understanding of gadgets, applications and other digital tools makes them proficient in the subject at a very young age. This scholarship recognizes such young talents in the field of digital space and encourages them.
In all the campuses of GIIS scholarships beneficiaries are scrutinized through relevant documents as evidence of their case. The scholarship committee
The selection process for the scholarships is based on the eligibility criteria.
For more details visit: https://dubai.globalindianschool.org/admissions/scholarships
GIIS Dubai is a preferred international school offering curricula from Kindergarten to Grade 12 education. The campus is approved to offer International Baccalaureate Diploma Program (IBDP), Central Board of Secondary Education (CBSE), and Global Montessori Plus program. 18 exemplary years marked by international recognition for achieving excellence in school education GIIS believes in the mission to cultivate and nurture young minds into global leaders of the future.
Global Indian International School promises the 21st century skills to make forward thinking, compassionate and empathetic leaders of our children
Mohana Kelkar
Head of Admissions
Dubai Campus