It was an event to remember. Two state heads, one large stadium, nearly 50,000 cheering, clapping, enthusiastic crowd; standing ovations, victory laps and lots of friendly overtures.
That was 'Howdy Modi' for you. And I was privileged enough to be a small part of the making of that history as it unfolded in Houston's NRG stadium on 22 September 2019. Back in Oct 2015 I had a similar privilege to chair the organising committee of over 1500 volunteers that saw some 28,000 spectators at the Namo Singapore event at the Singapore Expo. Prior to that in 2014, I had witnessed the Namo events in Dubai and San Jose in person.
But the Howdy Modi event, was totally different. Not for its 50,000 strong crowd size but because two of the world's greatest leaders were going to create history by coming under one roof on the American soil and addressing two of the largest democracies in two different time zones simultaneously.
An estimated 1.6 billion people across the world witnessed the Howdy Modi event as India's Prime Minister Narendra Modi and US President Donald Trump stood together on one stage, speaking in their native languages, addressing the Americans comprising of mostly Indian Diaspora settled in America and forging ties that went beyond mere bonds of friendship.
The Modi event was the most-watched event in India during Sunday Prime Time with many local and international media houses covering it for audiences sitting at home, besides those who were present at the venue. watched that event.
But for me, it was a personal experience that enhanced my understanding functioning of White House, their Secret Service and American worldview but also gave me an opportunity to contribute - albeit through connecting with Indians abroad through Singapore connect, and contributing into nation-building processes of the two countries.
In June 2019, when I was returning from London after attending the India-UK conference, I was chatting with the architects & Principal advisors of the Howdy Modi event, Mr Manoj Ladwa and Dr. Vijay Chauthaiwale, Head BJP Foreign Affairs. With my past key role in organising a similar large scale community event in Singapore back in 2015, which saw over 28,000 members of community under one roof, the architects and organisers suggested it would be helpful if I was able to join organisers at the Howdy Modi in Houston. I was thrilled to contribute, to say the least.
I eagerly set off to Houston to do my bit, only to learn that blizzards had forced diversion of my flight to Los Angeles Airport, got all travellers cleared of immigration and reloaded the flight as a domestic flight. The Houston airport staff was honest enough to inform travellers that due to the massive rains, many airport staff including immigration staff had reported being on leave as a result entire immigration dept had only 2 officers on the previous night. Staffers had returned to the airport when we landed.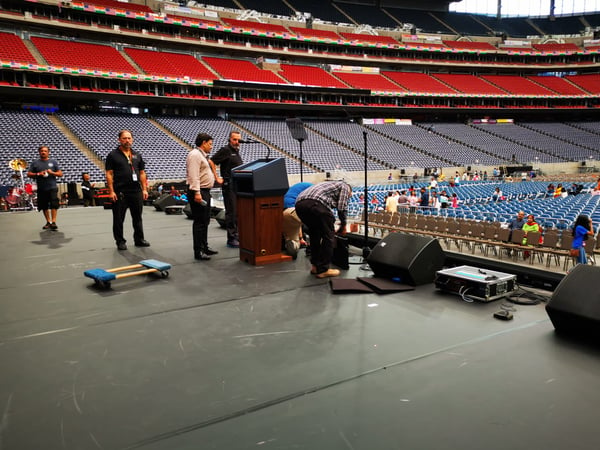 White House & Secret Service - setting up Presidential podium
Inching my way to Houston, with many other enthusiasts, after a 26 hour flight from Singapore, landed at the venue on the morning of Sept 20 and got to work almost immediately on the entire show flow script, which was to be checked and rechecked, for accurate timing and sequencing, and which was to be reviewed by the very polite White House / Secret Service staff at the venue. The same day there was a press conference for the invited media, and quite a few media traveling from overseas had their flights diverted from Houston and ended up missing the press conference, but managed to reach the venue in time.
The organisers had managed to get the 70K capacity NRG stadium as the venue, a masterstroke, to accommodate the 50k crowds who were to be there by community organisation invitation only.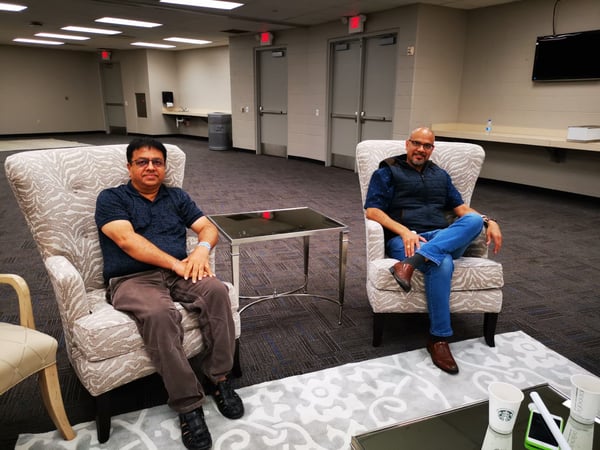 Venue of President Trump & PM Modi holding area
Singapore was playing a meagre but immensely valuable role in the event and had 4 major roles.
1) The volunteers used a Singapore designed ticket distribution system to send in the e-invites, filling my heart with pride at the acknowledgement of the efficiency of my domicile country.
2) I was able to assist the chief architects and key organisers in specific areas of showflow and media interactions.
3) The media management had a Singapore input as well, with Preeti Dawra from Singapore assisting Partho from Texas India Forum (TIF) on the media management.
But no matter what, the Texas India Forum (TIF) was the winner. TIF members spent numerous weekends and sacrificed their family time to help members plan and execute a brilliantly designed event. Traffic is a major spoiler in such events, and organisers found brilliant solution to reduce traffic volumes by asking members to bus down instead of driving individual cars and this helped in a big way. Thousands came from nearby cities by bus and trains and Dallas sent over 20 large buses with over 800 people.
Rehearsals carried out prior to the event went off smoothly, as did media interaction. On the day of the event, the efficiency of the White House production team came to the fore as well both in terms of security and logistical accuracy of their planning. Each and every detail was discussed and handled with care, barricades surrounded the stadium as did trucks and large vehicles, to ensure that no security threat was possible.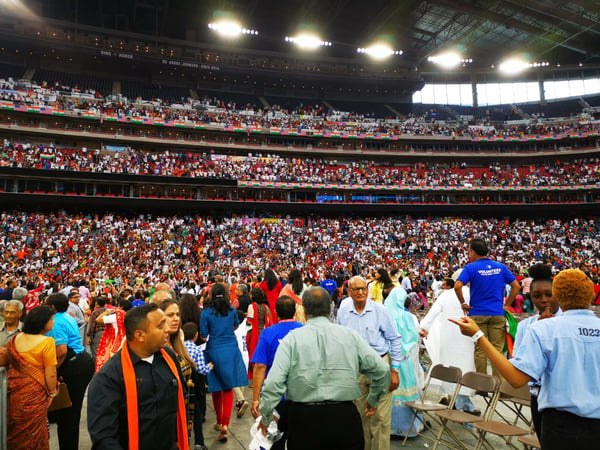 As many as 1300 volunteers, from Texas India Forum (TIF), represented by 650 non-profit and other organisations, worked day and night to make sure the entire event goes off smoothly with not a single glitch. After all, it was a showcase of the friendship between the two largest democracies of the world, and the strength of their individual people-talent.
I was delighted to meet a young volunteer Mr. Dabir who turns out to be GIIS Singapore alumni. I also had a chance to meet his parents who were also volunteering in that event and were very excited to be playing their roles at the event.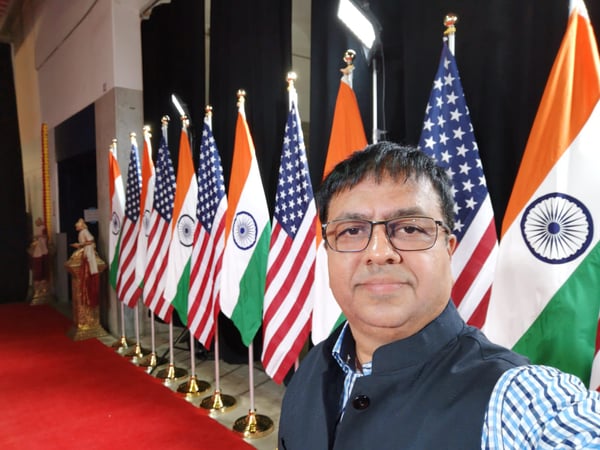 The NRG stadium, whose words "NRG" are derived from "ENERGY" symbolising its presence in Houston, the energy capital, was chock-o-block with media and production houses including BBC, Fox News, local Houston channels and of course the irrepressible Indian media, on the day of the event. But, before that, we had made sure that each media house got equal opportunity to cover the event. In fact, we even managed to add YouTube broadcast in addition to the standard feed - in Hindi, English and Spanish - through a strong bandwidth.
The D-day was not without surprises. Even though I started from my hotel at 5 am, it was minutes before my vehicle got caught in a jam and I had to walk my way over 2km to reach the stadium. There were non-invitees thronging the venue, hoping to get a chance to sneak in to be part of the historic event, but the 1400+ TSA security officers deployed there were too strict to give them that opportunity.
The event was a massive show of inclusiveness and multiculturalism, as young boys and girls from American school performed at the venue, as did people with special needs and of course, Indian diaspora showing their strong cultural side.
When PM Modi arrived, the crowd roared. As he spoke, they lapped up his each and every word in Hindi. President Trump reached the venue a bit later, but was given an equally thrilling welcome. As both heads of state shook hands as a gesture of their strong friendship, there was not a single chest in the stadium that did not fill with pride.
The best part of the event was that it was not a business to business or government to government collaboration. It was a celebration of two cultures which have intermingled to evolve into a gigantic third culture which goes beyond the realms of race, religion and ethnicity. The entire event was a showcase of the immense promise it held for the future, as the two giants promised to co-exist as friends.
The unscheduled & impromptu victory lap at the end of the event, where PM Modi invited President Trump to join him, took everyone by surprise. There was not a single person in the crowd that would have wanted a better finale. It was just the beginning of a cycle that will define the destinies of the two countries for years to come.