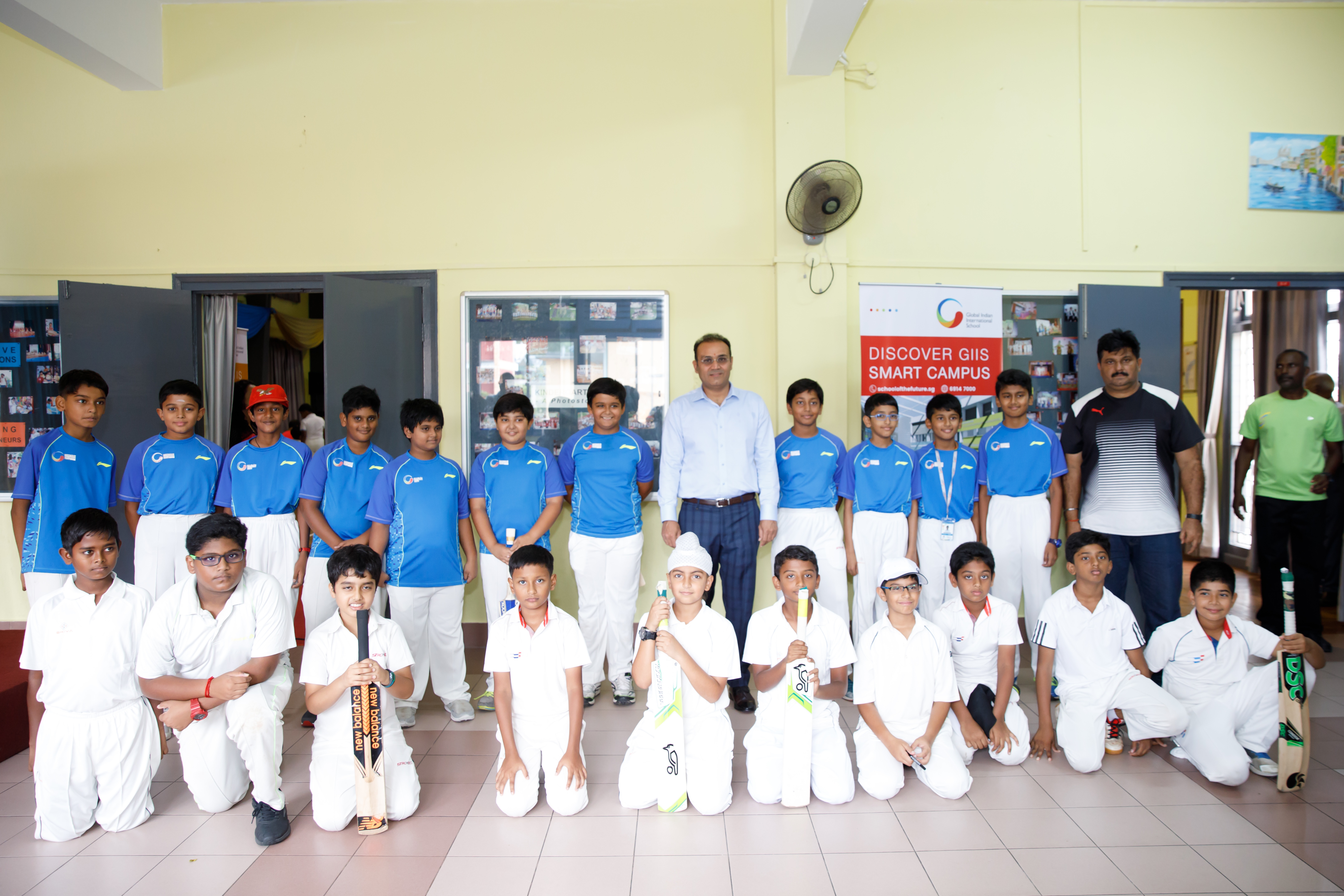 "Don't let anyone say you can't do it."

That's the message world-class tennis player Sania Mirza shared with GIIS students during a visit to the erstwhile Queenstown Campus as a part of the GIIS Leadership Lecture Series in December 2014. She is not the only one who has been to the GIIS campuses to encourage students to follow their passion and be winners.

Many renowned players have come to a number of campuses in Singapore, as part of the series which aims to expose the student community to world leaders, experts and achievers in every field, in a bid to inspire them to strive for the best. Sportspersons like Ms Mirza have been invited in the past to share her life story and her struggles and triumphs with the students. So was cricketer Virender Sehwag, who has represented India in many a games.

Sehwag gave an inspiring talk before taking to the field and playing a few shots to balls bowled by GIIS student bowlers earlier this year.

Similarly, Ms. Mirza, together with fellow tennis star Rohan Bopanna, had conducted a tennis clinic with students followed by an interactive Q&A session. Mirza and Bopanna encouraged students to follow their dreams and remain diligent in their practice.

"I have been in the same position as you when I used to listen to international achievers," said Mr. Bopanna. "To become a professional, you need a lot of hard work. I dedicate six to seven hours to tennis every day… you need total dedication and commitment to the game. The more dedicated you are, the better are your chances to be able to represent your country."

Legendary Sri Lankan cricketer Sanath Jayasuriya echoed this theme of dedication during his visit to the GIIS East Coast Campus in December 2015. In addition to his success in cricket, Mr. Jayasuriya has also served as a UN Goodwill Ambassador.

"Hard work, dedication, and perseverance are key aspects in achieving your dreams," Mr. Jayasuriya told the cheering audience.

Mr. Jayasuriya, one of the world's best all-rounders in the sport's history, also emphasized the importance of self-knowledge and staying committed to what you know is right, even in the face of adversity.

"Test cricket has always been the most difficult format in cricket," Mr. Jayasuriya told students. "I have always told myself, do not ever change your game. Always play your natural game."

The theme of dedication is important for all students, whether their dream is to become a professional athlete or a successful business leader. The visits from Mr Sehwag, Ms. Mirza, Mr. Bopanna, and Mr. Jayasuriya inspired students across GIIS campuses to develop qualities of courage, character, and strength – values that will guide these budding leaders throughout their careers, no matter where their professional paths take them.

These visits are part of the GIIS Leadership Lecture Series, which brings in political, cultural, artistic, athletic and scientific leaders from across the globe to discuss real-world problems and solutions with the students at various GIIS campuses. These leaders inspire creativity, passion, and action in our students, encouraging them to be responsible citizens, both now and in the future.