"Our education and learning drive will never stop, no matter the circumstances. The experience is new to everyone and parents have a big role in supporting the success of this new educational phase". His Highness Sheikh Mohammed bin Rashid Al Maktoum has tweeted after hosting a virtual class in one of the schools in Sharjah.
The COVID-19 pandemic has placed a unique challenge on schools and their ability to deliver the programs. Educators around the world have responded admirably to the challenge, as have their students and communities. This is the truth – the new normal.
Global Indian International School, Abu Dhabi was the first school in Abu Dhabi to start virtual classrooms. This did not come as a surprise as GIIS is popular for its progressive approach, student-focused outlook and networked learning exposure.
To understand GIIS better, it would help to know about the hallmarks of the school pedagogy in backdrop of virtual classrooms:
Upholding strong online learning communities that nurture connections and relationships.
Re-imagining and re-defining learning, rather than replicating what would have been offered in a brick-and-mortar classroom. Doing the latter has proven unsustainable to teachers and students.
Finding a balance between guided learning (which fosters connection) and self- learning. An educator's role at GIIS is actually to facilitate the learning. Direct instructions are minimized and large part of the time is invested in guiding effective use of learning time in the best interests of every single, individual student.
Interdisciplinary/cross-curricular teaching is seen as a way to support goals such as transfer of learning, teaching students to think and reason, and providing a curriculum more relevant to students.
Online teaching at GIIS addresses a differentiated learning environment; therefore, online differentiation focus on the content, process and product.
GIIS approached these virtual sessions by
Allowing students to access videos in addition to, or instead of just reading text.
Posting main lesson in PPT format rather than in narrative form.
Sharing video lecture on YouTube.
Provided a variety of peer-reviewed journal articles, text books, blog or websites that centered around the same concept for knowledge acquisition and allowing students to select their material.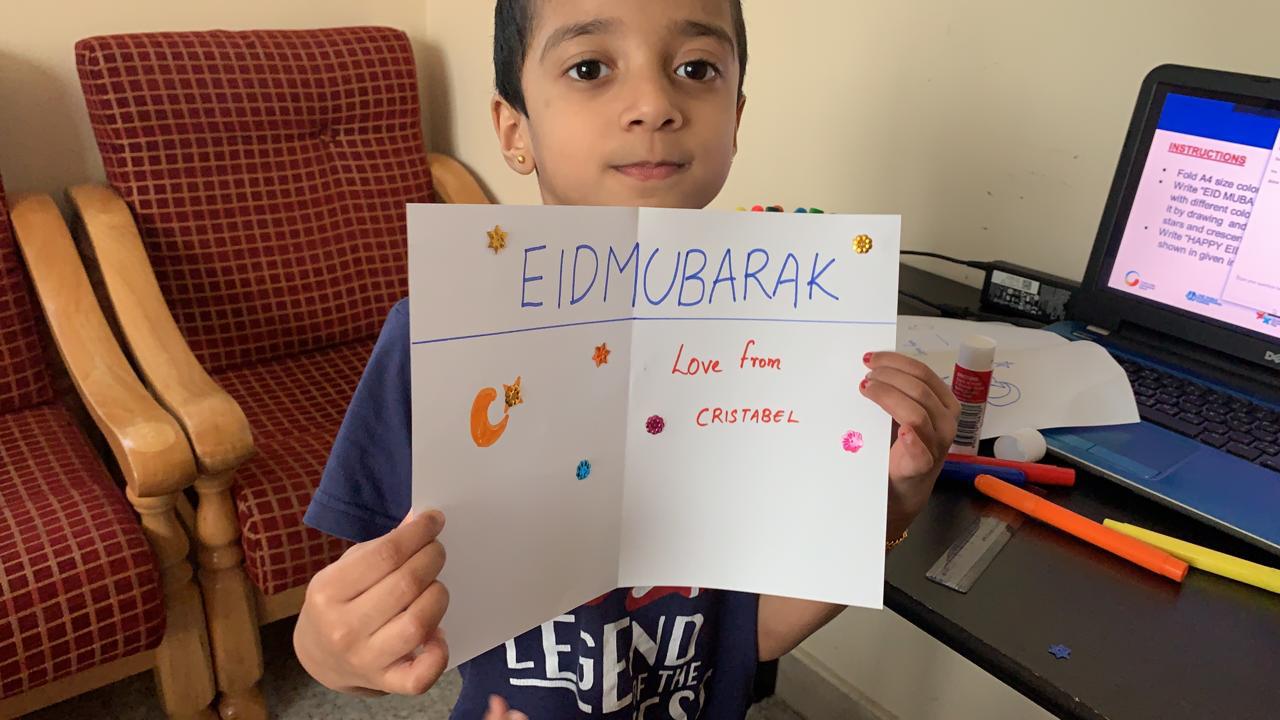 In online learning, the processing of information is done through a forum post or class discussion. Teachers as facilitators, check for understanding and provide additional support if needed. Zoom Webinars allow students to pose questions to their peers which helps in understanding the content more effectively. Products are specially designed for online learning, they are basically the summation or culmination of activities that we expect our students to complete and comprehend. The learning objectives for each lesson is pre-defined,
Providing choice in assignments
Allowing students to work collaboratively on projects
Assigning products that mirror real-world, career specific tasks
Students submit their assignments on Google Classroom. Based on the feedback given by the educators, Enrichment classes are provided by the counsellors. A fair use of online assessments (Google forms, online Quizizz, Kahoot, Quizlet) that allow students to demonstrate their learning through application of the content. Besides a strong academic focus, the school also has a holistic 9 GEMS methodology in place that takes care of the overall development of a child. These initiatives are still active during virtual learning as students have always reaped benefits from it. It ranges from critical thinking to art, universal values & ethics to leadership skill, all these are now taken to a virtual level.
Heartfulness: Heartfulness as a programme helps to attain happiness. This stems out from the holistic learning methodology where a student is not only taught life skills but also emotional skills. To achieve this students at an early age are exposed to a daily routing of calming down and meditaing.
Virtual STEAM Class: An innovative learning process was launched to boost the creativity and to improve the innovative skills of the children. Global Centre for Innovation and Entrepreneurship (GCIE), Abu Dhabi conducted World Creativity and Innovation Day contest from 21st to 25th of April on Facebook. Students were asked to bring their ideas into reality and post photographs of their projects on the Facebook page. Winners were selected from each category based on their innovative skills and maximum likes. Students of grade 1 to 6 were given opportunities to make their own games using scratch coding and arcade.
The virtual steam class started with the reduce, reuse and recycle concepts where the students made junk bots using recycle materials and posted in their Google classroom. They also took part in the Mission to space project in connection with National Space Day. The higher grade students explored the software simulation tool called Tinker cad where they designed building structures exposing them to the field of architecture.
Ideation Wall: Innovative and creative thinking requires consistent practice and GIIS offers this through the virtual ideation wall. Every week a challenge is put up for all students to solve and offer their suggestions. All responses are appreciated, evaluated and best viable suggestions are considered and implemented in consultation with relevant government authorities.
Art with social awareness via poster making activity: To bring awareness about Earth Day the students of Grades 1 to 4 had a 'Poster Making Activity'. It was indeed a proud moment to see the determination of the young minds as they showcased their creativity through a myriad of drawings while expressing their minds through art. They expressed their thoughts on how to preserve their planet for the future generations, as the world faces a pandemic.
Student Council: The first virtual Student Council Election /Selection was held this academic year. The nominations for the selection had been accepted via online nomination forms and videos. "A leader is one who knows the way, goes the way and shows the way". The First Virtual Investiture ceremony hosted by GIIS, Abu Dhabi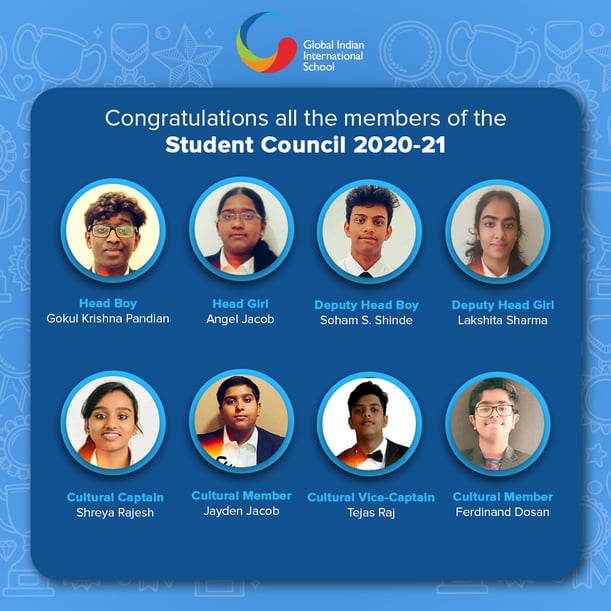 Free Virtual 'Weekends of Wonder' (WoW) Program: Meant not just for students, but the entire family, this unique programme focuses on improving the quality and learning outcome of family time spent together over weekends. As part of our ongoing 'Weekends of Wonder' (WoW) program, GIIS in association with Nikon Kids Photo club, is providing a series of online classes to spark and nurture your child's creativity in photography, at the comfort of your own home. From the basics of handling the camera to specialized genres, these sessions cover the full spectrum of photography.
Global Student Exchange Program: When you come from a family of network school then the biggest advantage you can offer students is your lineage of 7 countries and 21 campuses. Inter GIIS Global Student Exchange program is held virtually across the GIIS campuses frequently. The Covid-19 pandemic has affected us in many ways raised many ethical dilemmas. So, as part of this GSE event, our Young leaders of grade 6 and 7 from GIIS campuses across India, Singapore, Tokyo, Malaysia and UAE participated and shared their view points and solutions. GIIS, Abu Dhabi students bagged the first position.
GIIS Quiz Club: This is a platform for engaging student and parent in an online quiz series. The first was on Astronomy and Science, the second was on Technology and Entrepreneurship and the third quiz was on Sports and Celebrities. The content was created by the students and conducted for the students. It garnered tremendous response with over 200 audience joining on Zoom and on social media platforms combined for watching it live.
GIIS virtual ASA Classes : The FREE Virtual After School Activities (ASA) is conducted on all weekdays and offers many activities ranging from Fitness to Robotics, Dance to Art, music and much more. There are many options for all our students across age groups. GIIS virtual ASA classes have succeeded in accomplishing our mission of helping students, to make positive use of their time by learning new skills from our master trainers. These are offered Free of charge, in order to help our students continue taking part in extra-curricular activities while they are confined to their homes due to the present crisis.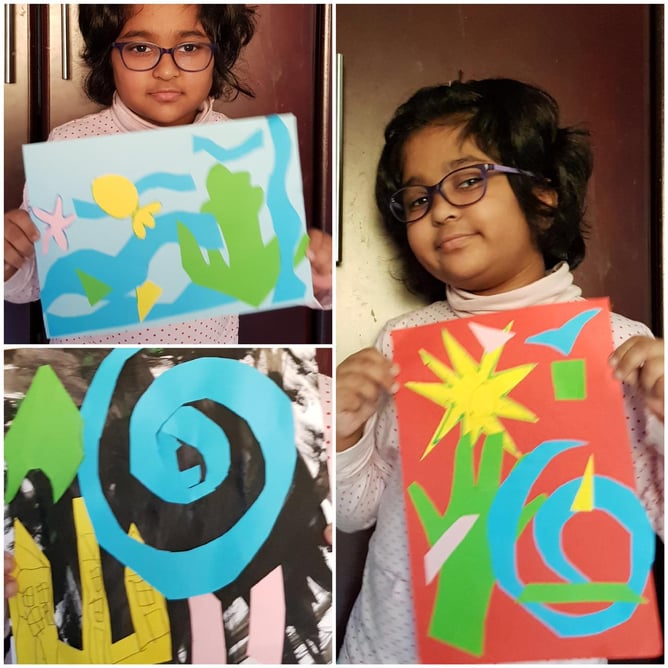 Parents have a direct impact on the education their children receive, especially in an online learning setting. While GIIS shares a deeper and shared responsibility with the parents, in an e-learning model, it takes on a new meaning. Parents are in the driving seat of their child's emotional balance, their physical environment and being ready to learn at a physiological level. Keeping this in mind and also taking into cognizance that parents may feel overwhelmed with these additional responsibilities while working from home, GIIS Abu Dhabi organized Zoom Webinar for parents on "Online Learning : Lessons For The Future" by Dr Alka Kalra -Professional Counsellor Psychologist Director, Eduscan Group. This session has helped many parents to overcome the challenges they face.
At GIIS, we are committed to making e-learning successful -by providing fun and engaging learning opportunities, organizing weekly Virtual Parent Teacher Meetings with the Principal and educators. Parent's feedback is immensely important to us in our constant endeavor to improve our Distance Learning systems and processes. Frequent interactions with the parents help us identify the quality of services provided, areas of improvement, school environment and the level of communication between the parents and the school which will help us to develop appropriate programs, plans and initiatives.
The proof lies in the pudding, when you are selected by ADEK to be the lead school for Distance Learning or when CBSE acknowledges the efforts of the GIIS Abu Dhabi Principal Dr Heena Rachh for her contribution in a Hand Book for 21st century skills then one is confident the direction that this journey is taking is correct.
The brilliance of technology is that we can bring art, creativity, innovation and knowledge into our homes while following the social distancing rule. Stay home, stay safe and stay connected with the beautiful GIIS family, Abu Dhabi.