IB Primary Years Programme is an inquiry-based Programme that chisels students into life-long learners. The framework is designed to trigger independent learning in students through an inquiry-based approach.
Since the approach and principles of teaching for IB PYP are not identical to the traditional classroom methods, parents are often puzzled as to why choose IB PYP course over conventional curricula for their primary grade children.
IB PYP framework is different from other conventional curricula that are based on traditional concepts of book and black-board based learning and the entire process is driven by the teachers. The Primary Years Programme is crafted in such a way that the student takes the ownership of his learning and paves his own path gathering the knowledge through a series of questions designed by themselves.
The classroom activities and learning modules of a PYP class are structured differently from those of other curricula. There is a strong emphasis on self-learning and enquiry-driven activities, that help the students in becoming creators of knowledge rather than being mere consumers of knowledge.
A closer look at the classroom activities and teaching modules of an IB PYP classroom at GIIS will offer a better perspective and deeper understanding to parents as to how is a typical unit of inquiry is designed and carried out in order to achieve the best learning outcomes.
Here is a step-by-step process of how a unit of inquiry is covered in IB PYP classrooms at GIIS:
The unit of inquiry is divided into various stages:
Tuning In – before the students start the cycle of inquiry, the central idea or the big idea is unfolded to the students through visual thinking routines like a graphic organiser, photograph, poster etc. Through the visual thinking exercise the students deconstruct the key terms associated with the main idea.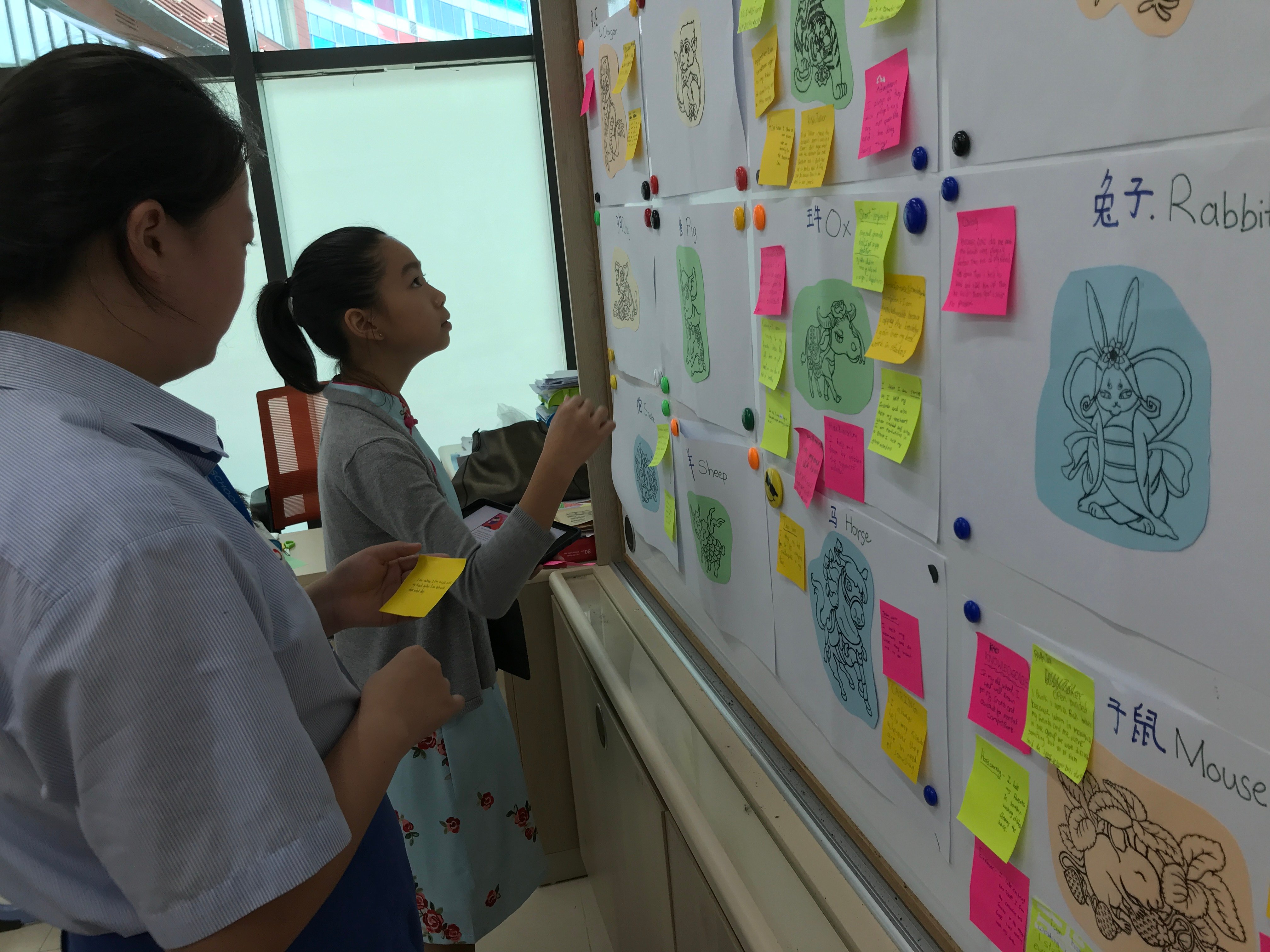 Deconstructing key terms during Visual Thinking Process
Finding Out – at the finding-out stage the students are engaged in a variety of individual and group activities to conduct research and uncover the theme to find out more information, within the scope of the inquiry. Students collect information from primary and secondary sources. This could mean conducting surveys, visiting library and referring to books or using their iPads to search for new information on the web.
Sorting Out – at this stage, students organise the information that they have gathered. They also learn transdisciplinary skills in the process and integrate other subjects in their learning. For example, if the central theme is 'Wellness and Nutrition', which is a science topic, the students are given formative tasks like creating an essay, pie chart, poster, radio ad or presentations to present the results of their findings in an organised way. This way a lot of subjects areas are integrated into the unit of inquiry and the student deals with the theme in a transdisciplinary manner.
Going Further – at the going further stage students are offered an opportunity to further explore their individual inquiries. The teachers typically arrange for field trips or expert talk sessions to further their understanding and technical knowledge on the subject.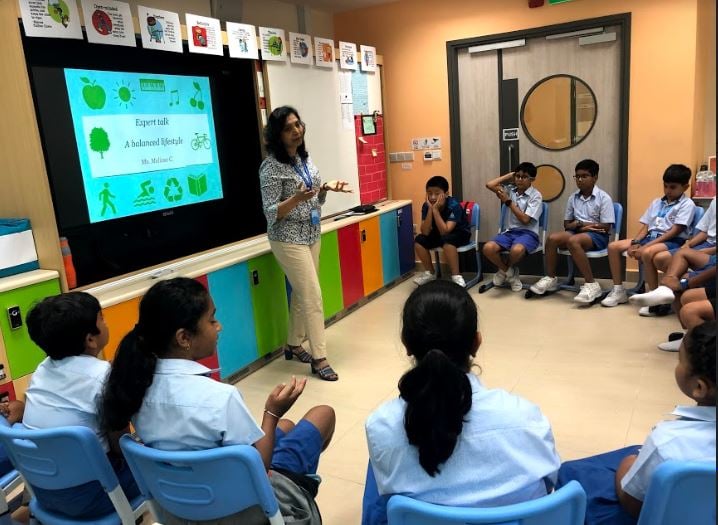 Expert Talk in Progress
Making Connections – at this stage of inquiry, students look at making real life connections with the classroom learning by putting together the central idea and the key concepts learnt during the various stages of inquiry.
Taking Action – students take action by working on summative assessment project either in groups or individually to sum up their learning and make a final presentation to the teacher and class. They are also required to reflect on the key ideas and skills learnt and take possible action to bring about a change at their own level.
While going through the six stages of inquiry, students carry a lot of exploration, make connections between subjects and apply the knowledge that they have learnt to real-life situations. The form teacher acts as a facilitator and evokes the curiosity of students in multiple ways like organising play sessions, scavenger hunt, learning stations and so on.
As a well-thought out framework for the formative years, the uniqueness of Primary Years Programme is that it helps students build curiosity and intent to learn and know more. As the students are not bound to learn in conventional ways, they get more involved in the learning process and remain self-driven throughout the process.
Click here to know more about the IB Primary Years Programme at GIIS. Watch this video to know what our parent has to say about PYP at GIIS.
To know about affordable and premium IB PYP curriculum at GIIS SMART Campus, click here.