Many world-famous leaders have visited GIIS over the years, including Lee Kuan Yew, the first Prime Minister of Singapore; Dr. APJ Abdul Kalam, the former President of India; Ela Gandhi, the peace activist and granddaughter of Mahatma Gandhi; and Dr. Mahesh Sharma, the Honourable Union Minister of India. These are just a few of the exemplary speakers and guests that inspire GIIS students as part of the popular Leadership Lecture Series. While these leaders have achieved great success, they are also humble, each reminding GIIS students about the importance of humility, dedication, and hard work.
Ms Ela Gandhi, the granddaughter of Mahatma Gandhi, visited the erstwhile GIIS Queenstown Campus in August 2015. Ms Gandhi has followed in her late grandfather's footsteps and played a leading role in the struggle against apartheid alongside the late South African leader, Nelson Mandela. When asked about the role of compassion in an increasingly competitive world, Ms Gandhi expressed that competition is crucial to unlocking a person's fullest potential but emphasized that success should not come at the cost of others. She also stressed that one must take an active role in cultivating a culture of non-violence.
"Non-violence is not just the absence of violence, but the encouragement of a culture of love, respect, and compassion," Ms Gandhi told GIIS students.
Actively creating a culture of tolerance and respect starts with cultivating self-development and then nurturing a deep compassion for others. This is a theme other luminary leaders addressed, including former President of India, Dr. Kalam.
In his inspirational address to GIIS students at the Balestier campus, Dr Kalam noted that the most honourable profession is not being a president or a scientist, but being a teacher. Dr Kalam highlighted the important role teachers play in creating enlightened humans. First, teachers build capacities among their students to inquire, innovate, be creative, and develop the qualities of entrepreneurship and moral leadership. Secondly, teachers can assist in the development of the moral value system amongst their students. It is this value system that ensures students are compassionate and respectful.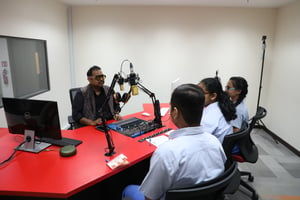 Cultural respect and cross-cultural understanding was a topic touched on by Dr Sharma, the Union Minister of State, during his visit to GIIS Singapore in June 2015. Dr Sharma encouraged every student to be an "Ambassador of India" and said he wants "our youth to experience the cultural heritage and richness of India."
The GIIS Leadership Lecture Series brings in political, cultural, artistic, athletic and scientific leaders from across the globe to discuss real-world problems and solutions with the students at various GIIS campuses. These leaders inspire creativity, passion, and action in our students, encouraging them to be responsible citizens, both now and in the future.