What does it truly take to succeed? When one looks at a famous movie star, it is easy to imagine that success just "happened". Overnight, this person became a famous star. But what people do not see is the hard work, humility and dedication that went into achieving this goal.
As part of the GIIS Leadership Lecture Series, world-renowned artists including actors, directors, lyricists and screenwriters visit GIIS campuses. During these visits, students learn first-hand the importance of hard work for achieving goals, and leave the auditorium inspired to pursue the artistic side in them.
One such inspiring visit occurred on August 28, 2018, when theatre-personality, writer, director Feroz Abbas Khan spoke with students at the GIIS SMART Campus in Singapore. He advised the students to "search for excellence, not success".
Another film personality Farhan Akhtar who visited back in 2014 had told students to pursue their passion with conviction. "It is truly possible to achieve anything you want in an honest way if you are willing to submit yourself to the cause," Mr Akhtar told his audience in a speech that was simulcast live across all GIIS campuses worldwide through the MyGIIS app.
Both visits were a motivational experience for GIIS students to develop courage, character, and strength - values that will guide these budding leaders throughout their careers.
GIIS students eagerly ask these leaders a range of questions asking them for suggestions and insights into their success.
During his LLS, Mr Akhtar emphasized the importance of discipline and dedication. For example, when Atharva Ghosalkar, of Grade 12 from GIIS Queenstown Campus asked him about the advice for aspiring writers, Mr. Akhtar shared how he dedicated two hours every day to writing, even when he struggled with writer's block and could not think of how to get started. He persevered and ended up writing the script for his directorial debut blockbuster film Dil Chahta Hai.
"Inculcate the discipline and eventually everything will fall into place," said Mr. Akhtar.
Discipline, diligence, humility, and respect are four values other actors, directors, and writers have stressed during their visits to GIIS as part of the Leadership Lecture Series.
Such encouragement from leaders is what drives our students to dream big and strive for more success.
Previously, on July 11, 2013, GIIS Queenstown Campus students welcomed Ms. Leela Samson, Chairperson of Central Board of Film Certification, Chairperson of Sangeet Natak Akademi and former Director of Kalakshetra as a part of the GIIS Leadership Lecture Series. Ms. Samson, a renowned Bharatanatyam dancer, choreographer, instructor, and writer, emphasized the importance of preparation to take advantage of opportunities when life presents them.
Ms. Samson told the students that hard work, consistency, and devotion are keys to success in any career path. Reflecting on the values GIIS strives to instill in its students, Ms. Samson highlighted two important principles: Shraddha (faith) and Bhakti (devotion to one's field).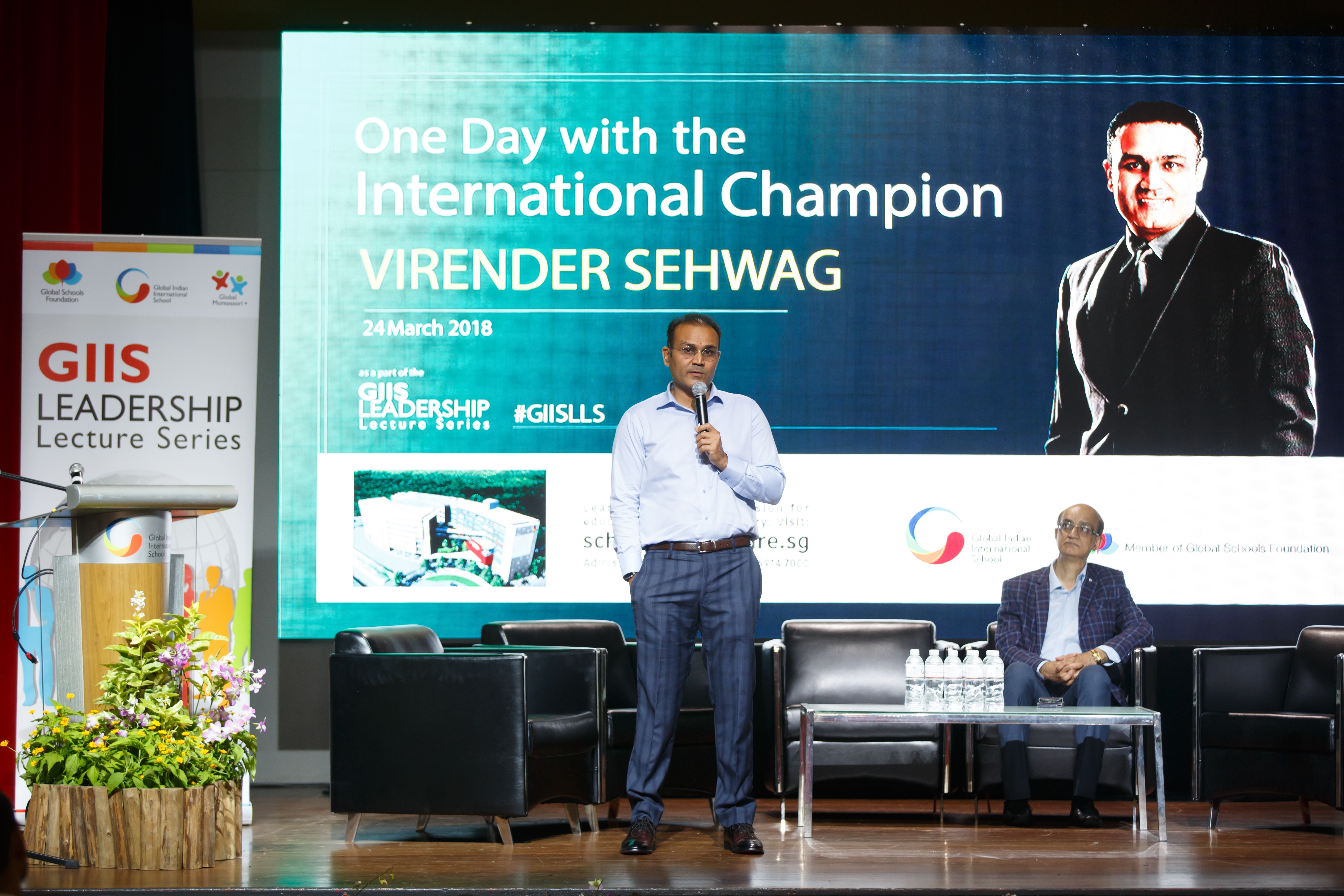 The visits of Mr. Akhtar and Ms. Samson (and many others like Mr Virender Sehwag) are part of the GIIS Leadership Lecture Series, which brings in political, cultural, artistic, athletic and scientific leaders from across the globe to discuss real-world problems and solutions with the students at various GIIS campuses. These leaders inspire creativity, passion, and action in our students, encouraging them to be responsible citizens, both now and in the future.
The LLS is also part of GIIS vision of imparting holistic education on students so they grow into well-rounded individuals.