If you're reading this post, there's a good chance that you have recently relocated to Singapore, or perhaps in the planning stages. As part of your due diligence, you are likely researching the cost of schooling in Singapore and other details about private schools that exist here.
Living abroad is a great opportunity for career advancement as well as an invaluable life experience. As part of this new life chapter, there will be many challenges but finding international schools in Singapore doesn't have to be one of them. The island nation has many private international schools that cater to the needs of expat families.
Top 10 things to know about international schools in Singapore including the cost of education:
Cost of private schooling in Singapore - The average international school fee in Singapore may leave you feeling a bit weak in the knees. Fees start at S$ 5,000 to S$ 34,000 per year for primary schooling and climb to S$ 7,000 to S$ 50,000 for secondary schooling.


There are international schools in moderate fee category - Good news is that the parents have choice of schools like GIIS that offer world-class education and choice of international curricula like IB PYP, IGCSE and IBDP in a moderate fee category.


Only few schools offer K-12 education – Although there are many international schools in Singapore, only a handful of them are old and established enough to offer education from Kindergarten to Grade 12. Most of the schools have started as primary schools and advancing in grades as the students subsequently move to higher grades.


Schools vary in infrastructure – Only few international schools in Singapore have created their infrastructure from scratch. Most of the schools renovate some pre-existing school buildings that are no more in use and start from there. Few schools like GIIS SMART Campus provide a world-class infrastructure with NextGen facilities, created from scratch to offer the best learning environment.


Schools have different ECA and CCA offerings – While ECAs and CCAs are an integral part of every school, some schools keep adding new and interesting activities to the list. For example, apart from regular sports, art and craft, music and dance activities, a few international schools also train their students in upcoming skills like radio jockey, culinary art, robotics and AI.


Different schools have different country of origin - Parents have the choice to select from over 30 international schools in Singapore, each one having a different country of origin.


Different schools have different ethos – Since the international schools in Singapore have different countries of origin, each one has a different ethos. This offers a choice to the parents in terms of choosing a school where children can have cultural continuity.


International Schools offer different curricula – the international schools in Singapore offer different international curricula. Most of the schools include the curriculum of the country they have originated from. For example, GIIS offers CBSE, which is an Indian curriculum, in conjunction with international curricula like IB Primary Years Programme (IB PYP), Cambridge Lower Secondary Programme (CLSP), International General Certificate of Secondary Education (IGCSE) and International Baccalaureate Diploma Programme (IBDP).


International schools in Singapore are monitored by CPE – All private international schools in Singapore need to be register with the Committee for Private Education (CPE) under the new Private Education Act.


Schools vary in their approach – International schools in Singapore vary in their approach to education. While some are only focussed on academics, others aim at holistic development by balancing academics and personality development. For example, GIIS is one of the schools that aims at making well-rounded individuals with excellence in academics.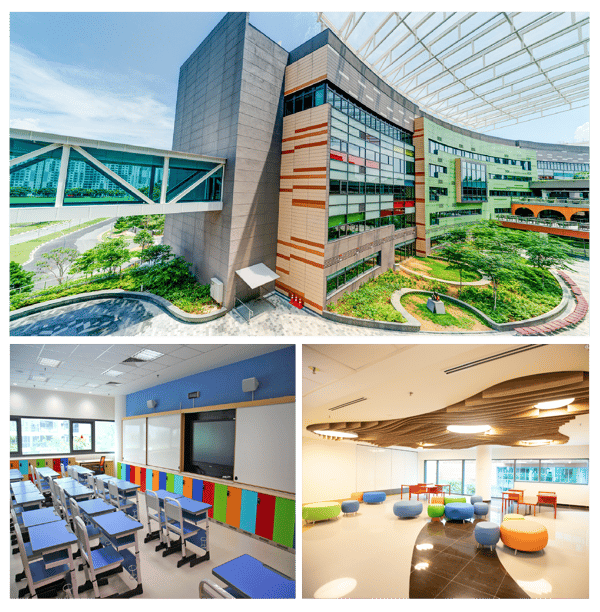 Singapore is a great place to make a home and career. More than that, it is a haven for parents with growing kids. More so, because it offers a plethora of choices in terms of school education. Cost of schooling in Singapore can be high but at the same time it is not difficult to find a good school in the moderate fee category.
Related articles:
- Smoothen the Transition of your child from India to Singapore
- Ten Tips for Life in Singapore
- Education in Singapore: What Should Expat Parents Look For?