Visit our culinary studio while cooking is underway and you will find groups of children enthusiastically trying their hands at various techniques, experimenting with different combinations of ingredients and learning to use appliances and kitchen utensils with confidence.
Over the past eight months at GIIS Punggol, we have been hosting cooking workshops for our primary and secondary students. Our culinary lab is an extension of that learning and allows us to offer cooking as part of our co-curricular activities programme.
State-of-the-Art Cooking Facilities
Our culinary studio centres on optimal functionality and best practices. We can accommodate over 35 children at one time. Two video cameras are stationed in the lab, along with a large-screen television that displays the footage in real-time, allowing students to observe chefs from anywhere in the room as they demonstrate the art of cooking. The lab is equipped with one chef station and several workgroup areas.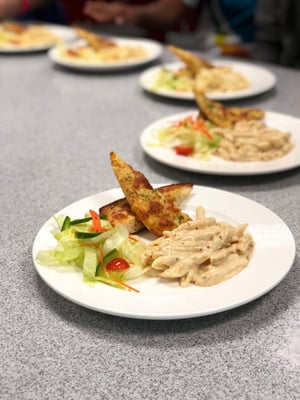 Electric stoves, ovens and microwaves are all available to use to accommodate the specific types of baking our children practice, as well as a full selection of cooking utensils, including choppers and washers. There is also a large refrigerator in the kitchen studio, ensuring ingredients are always fresh. Our culinary headquarters is strategically located so that students can take tours of the nearby cafeteria and observe how food is prepared on mass. As children acquire new skills in this area, they're encouraged to share their culinary creations with their friends and classmates.
Supporting Our Vision
At GIIS, our goal is to provide a well-rounded, 21st-century education, instilling not only academic knowledge but also practical, hands-on skills. To that end, we offer cooking classes to help children explore their interests further and nurture their creativity. Food preparation is an important life skill and a hobby for many. For others, excelling in the culinary arts can pave the way to a rewarding career. Teaching our children how to cook may lead them to skills and talents yet undiscovered by them. As part of our co-curricular activities programme, cooking offers yet another opportunity for our students to connect with teachers and peers in a relaxed, informal setting beyond the traditional classroom.
Become A Part of Our Vibrant Community
Our balanced approach equips children with skills and knowledge in a variety of areas, allowing them to stand out as they pursue higher education and careers, and eventually take their place in the world as global citizens and dynamic leaders. If you would like to learn more about our many activities and programmes, please contact us to take a tour or speak with our admissions team.